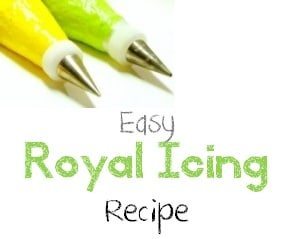 Royal Icing is a soft icing that hardens once dried. It is relatively easy to work with and is used to decorate cookies and cakes. Kids love to frost cookies and royal icing is fun to work with. Food coloring can be added to make royal icing in any color. Kids love to use frostings in different colors.
Since royal icing is usually prepared with fresh egg whites there is a slight chance of salmonella poisoning. To prevent this some people use meringue powder instead of egg whites.
To prevent the royal icing from running I always make a smaller batch with a thicker consistency. I use the thicker icing to first pipe a border around the cookie before I fill it with royal icing. This helps keep the shape and prevents the royal icing from dripping down the cookie.
If you are making a large quantity of icing then you can use the following recipe for the borders. If not, make the regular recipe (the second one), take out a small part and add additional confectioners' sugar to it to reach a thicker consistency.
Royal Icing for borders
1 large refrigerated egg white
1 teaspoon lemon juice
3 cups confectioners' sugar
Food coloring (concentrated gel paste)
If you don't need a large quantity of royal icing then you can make the recipe below and add extra confectioner's sugar to one part until it thickens.
Royal Icing Recipe (used to fill the shapes)
Ingredients:
1 large refrigerated egg white
2 cups of confectioners' sugar
1 teaspoon lemon juice
1 teaspoon vanilla essence
Food coloring (concentrated gel paste)
Method:
Beat all ingredients together until the icing is stiff.
Divide into batches and add food coloring to each batch. Add a few drops at a time using a toothpick to ensure that you only add a tiny quantity. It is very concentrated.
Place the colored royal icing in a piping bag with a small tip.
Pipe a border around the cookies (using the thicker icing).
Let it dry before you fill the cookie with the thinner icing.