Crosswords for Kids
This crossword game is for kids learning to read and write. Most printable crosswords are too difficult for kids in kindergarten or first grade, but these are perfect for younger children!
Animal Crossword Puzzles for Kids
These crossword puzzles are perfect for kindergarten use.  They can be used by parents and teachers. They are great for first grade too.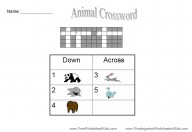 More Easy Crossword Puzzles:
[autonav display="posts, table" postid="category:crosswords" count=40 titles="1" size="106x73"]