The Role of Teachers in Kindergarten
Kindergarten builds a foundation for a child's education later on in life. Kindergarten teachers have a vital role in early childhood development by fostering basic intellectual and social foundations. To lay these foundations, kindergarten teachers may implement several teaching methods that prepare students to express themselves while learning. Successfully teaching in kindergarten is about finding the right balance between fun and learning. The following tasks help find this balance:
Planning themes
Organizing materials
Implementing age-appropriate approaches
Exploring practical and hands-on activities
Creating engaging work stations
Lining up a number of organized resources
Working with young children is always challenging. There is constant activity, interruptions, and various challenges. Teaching Kindergarten is not an easy task as the teachers have to:
help students with academic learning
keep them engaged
face many other challenges like helping students make the transition to kindergarten
handle the students' outbursts and tantrums
Kindergarten Lesson Plan
You can find lesson plans for Kindergarten teachers below.
Important Tips for Kindergarten Lesson Planning
Keeping organized is very important when teaching. Having a theme-based plan to follow Kindergarten lesson plans is one way to make sure your teaching stays on track. Here are some tips to organize your kindergarten lesson plans:
Set weekly or monthly themes as they are a great way to cover lots of different learning activities.
When educators work in pairs or groups, they can leverage the talents of those in the room and create classroom activities that address multiple styles of learning.
Provide hands-on learning experiences to understand the material taught.
Make your lesson plan time-bound and divide lessons and activities into sections.
Teaching Methods in Kindergarten:
Kindergarten methods of teaching can include group learning or small group instruction in which children divide into groups of two or more to work together on a project. Pair work and small group learning is critically important for promoting a child's social skills as it promotes inclusive education and enhances collaborative skills among the students. When children work collaboratively with peers, they learn how to communicate in ways that create harmonious social relationships.
To sum up, the goal of each kindergarten lesson plan is to prepare children well for the more formal learning that takes place in grade school.
Kindergarten Lesson Plan Template
This free printable kindergarten lesson plan template Word format can be used to create your own lesson plans instead of starting from scratch. You can also download the lesson plan sheet as an editable PDF file.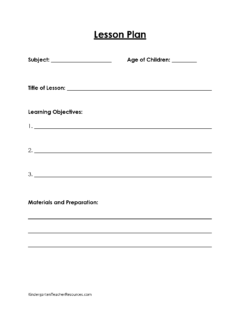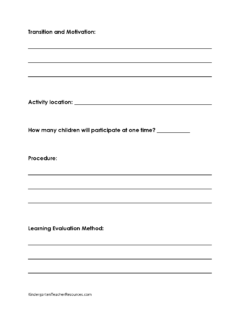 If you want to change the lesson plan layout then use the Word format. If you only want to fill in the blanks then select the PDF format.