Crafts for Kids
Here are 10 cool toilet paper craft ideas that you can make with your kids or students.
This Karate monkey is so sweet! It is made by Krafty Kid and you can download the monkey template on 
their site
.
This giraffe from 
Crafts by Amanda
 is so cute! It is made out of 6 toilet rolls and giraffe print felt. If you can't find giraffe print felt you can use giraffe print paper. It won't have the same texture but will be just as cute! You can also just use plain paper and cut out shapes from brown paper or felt.
This octopus was made by 
clickacraft.com
. They have some more cool toilet paper craft ideas on the site too. This octopus is really easy to make and they also have instructions with a photo of each step.
This butterfly was created by 
BoBunny
. It's a very simple craft project. You can find step by step instructions on the site with photos. There is also a printable template to create the wings. I just love the colors!
These cars are so sweet! You can find instructions on how to make them 
here
. The instructions are not in English but there is an option there to translate the page via Google translate. You don't really even need to translate it since the photos are pretty self-explanatory. I love the little Playmobil man driving the car! Perfect size!
This marble run was produced by 
Spoonful
. It is made with various tubes such as toilet rolls, paper tubes and any other rolls you find at home. You cover the tubes with pretty paper and place self-adhesive magnet strips on the other side. Place a tissue box (or any other box) at the bottom to catch the marble as it completes the run. If you are making this craft in a classroom or kindergarten and don't have a big magnetic surface you can attach the rolls to a notice board or wall. Instead of a magnetic strip, you can use Velcro strips.
This pencil holder was made by covering toilet rolls with twigs.  It is from 
She Knows
. What a great gift that costs practically nothing to make! I would love to get one of these from my kids!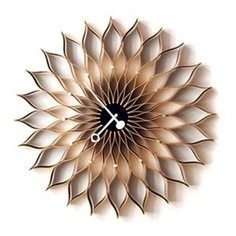 This 
Vitra Nelson Sunflower Clock
is beautiful. If you love this clock but can't afford to pay $1,215 for it then you might want to try a low-cost DIY version made out of toilet rolls. It won't look identical but DIY fans love these kinds of challenges! Cut the toilet rolls into about 6 circles (depending on the width that you want each circle to be). Once you have joined all of the pieces together you might want to apply a protective coat to ensure that your work of art lasts. There are many different products that can be used such as Modge Podge, fabric stiffener or even just a clear acrylic varnish.
This fish was made by tpcraft.com with a toilet paper roll, tissue paper, googly eyes, and construction paper. It is easy to make and you'll find step by step instructions with photos on the
TP Craft
site. They also have many more interesting toilet papercrafts on the site.