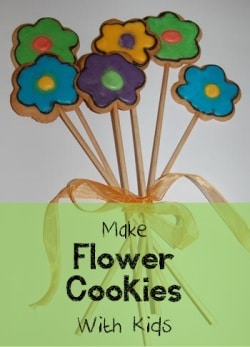 These flower cookies are fun to make. Kids will love making and testing them. Once the cookies are ready you can tie them up with a ribbon, wrap them in cellophane like a bouquet of flowers or put them in a jar or flower pot (see photos below). They make great gifts!
Making Cookies with Kids
Method
Make cookie dough.
Roll the dough.
Using a flower-shaped cookie cutter to cut the dough into flower shapes.
Bake the cookies.
Leave to cool.
Make a batch of royal icing for borders.
Place the royal icing in a piping bag with a small tip.
Pipe the border around the cookies. We used black royal icing but you can use any color. You can also use the same color that you use to frost the flowers but even if you do so don't skip this stage. Piping a border around the cookie will prevent the royal icing from dripping down the cookie.
Let the border dry before you fill the cookie with the thinner icing.
Make royal icing in various colors.
Fill the border of the cookie with icing. Frost each cookie with a different color to make a colorful bunch of flower cookies.
Wrap them up like a bunch of flowers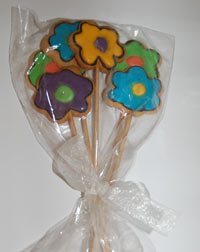 or put them in a pot