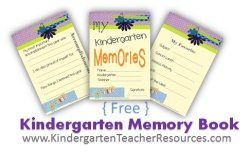 Keepsake Printables
This is a memory book for kids in kindergarten. It records special memories during the year. Both kids and parents will treasure the memory book for years to come. We have a colored version and a black and white (low ink) version.
You can print the pages that you would like to include in your memory book and create a book with the memories that you want to include.
The memory book can be used by kindergarten teachers and created together with the children. It will make a special end of year gift and keepsake. Parents can make the book together with their kids at home.
 Memory book cover
Cover with photo (instead of cover above)
Accomplishments
All about me
Autographs
My birthday
Heroes
My Kindergarten Class
Lunch
My best day
My best friend
My favorite… (British version – My favourite)
My favorite – page 2
My Friends
My Kindergarten
My Pet
My teacher (female teacher)
My teacher (male teacher)
Next Year
Recess
Self portrait
Subjects
Things I'll miss
When I am big
Summer Vacation