My Toddler LOVES to draw. Whenever he finds a crayon or marker he quietly disappears somewhere where he will not be disturbed and then he draws on the floor, bed, sofa or anywhere he can besides paper of course because that is not as fun. If he is too quiet for a few minutes then I know that he is creating a masterpiece somewhere. My older kids never let him down and constantly leave markers lying around in places he can reach despite my nagging. When I catch him in the act he gives me a look that clearly shows that he realizes he is doing something wrong but that is what makes it exciting. I beg my older kids not to leave markers lying around but somehow my toddler always seems to find one. When I saw Ana White's desk for kids I immediately knew that it was going to make my life much easier! Not only would my kids have a place to store their paint, markers and pencils but my toddler would not be able to reach them. Best of all the desk folds up so it doesn't take up any space when not in use! When the desk is closed it can be used as a black board. This desk is amazing! All I need to do is get around to making it! Luckily Ana White posted detailed instructions on how to do it and it doesn't seem too difficult. I know what I will be doing this weekend.
This desk can be adapted to your child's needs. You can divide it up according to the size of objects that you want to store in it. You can also mount it at the perfect height for your child.
For detailed instructions on how to make this desk please see Ana White's website.
Short cut for those who don't want to make the desk themselves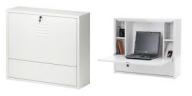 If you like this idea but can't be bothered to make one yourself then you can use Ikea's laptop station. You can even turn the outside into a blackboard like Ana did but you will need to prime it first before painting with blackboard paint. I think that it will be more durable and effective to cover the exterior with self adhesive dry erase board and turn it into a dry erase board to write or draw on. You can also just embellish it with colorful stickers.
Some additional ideas to add to your desk
You can add a paper roll holder so that kids can pull out new paper to draw on.

You can make the blackboard magnetic and keep magnets in the desk. Use alphabet magnets to write words or just to play.

Add a laptop and make it a computer station. To keep the laptop from falling out, attach a wooden stick between two shelves to ensure that the computer is stable in the desk.

Instead of using the blackboard paint you can use self adhesive dry erase board.
Additional uses for this desk
Lego and/or Playmobile station. Keep Lego or Playmobile pieces and figurines in the storage area. Adhere a Lego mat to the desk and your child can use this as a Lego play station. Image that, no more Lego pieces lying all around the house! You can also adhere a Lego board instead of the blackboard on the outside and show off Lego masterpieces which can be connected to the board when the desk is closed. My son is always upset when we have to disassemble his creations!
You can keep puzzles in it and make a puzzle making station.
Ideas for moms and dads:
Ana White originally wanted to make this desk as a fold down wrapping station with rolls of wrapping paper and ribbon all ready to wrap a gift. I love this idea and might be making two of these desks! You can put cards and everything that you need to wrap a gift. I always find myself running around the house looking for everything I need to wrap a gift. I always remember shortly before we need to leave for a birthday party that the gift isn't wrapped yet and the supplies are never all in one place. This could definitely be the solution.

Small Office – if you want your own home office but don't have the space you can create a small fold up workspace with a laptop, office supplies and anything else that you need in your small office. You can even make a small desk for yourself in your child's playroom so that you can work while your child plays. That way you get to work and watch your child.

Workstation for tools – it can be used to keep tools and to work on small projects. Big projects will be too heavy for the board. If kids like to build and fix then you can put play tools in the desk and let them work there.

Make up station for moms. Keep all of your makeup and jewelry in one place. Instead of the blackboard adhere a mirror. On the back of the storage area (inside the desk) adhere a mirror too. Use a nice frame around the mirror and it will look great when closed.
Craft and/or scrapbooking station. Keep all craft or scrapbooking supplies in the storage area. On the desk you can even adhere a cutting mat.