Alphabet Coloring Pages and Worksheets
If your kids like the Angry Birds then they will enjoy these Angry Birds alphabet coloring pages and coloring worksheets. In fact, they will have so much fun that they won't even realize that they are learning to recognize and write the alphabet and other important skills.
When learning is fun kids will enjoy it and actually learn more than they would when they are not enjoying what they are doing. Angry Birds kindergarten worksheets can help make your kids or students enjoy learning colors and the alphabet!
Each coloring worksheet has a picture of one of the Angry Birds. It also says which color it should be colored in. Some of the alphabet coloring pages have a color code which shows exactly which color each section should be colored in to get the Angry Bird to look just like the original.
Coloring Pages
Coloring Worksheets
Color by Number
B is for Blue
Letter B Coloring Page
Letter B – Color by Number
R is for Red
Letter R Coloring Page
Letter R – Color by Number
Y is for Yellow
Letter Y Coloring Page
Letter Y – Color by Number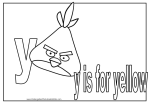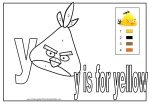 G is for Green
Letter G Coloring Page
Letter G – Color by Number