Free Kindergarten Worksheets
Are you looking for Dr Seuss math activities for preschool? We offer a selection of free printable Dr. Seuss math lessons for kindergartners to learn numbers and basic math (addition up to 10).
Number 1 & Number 2
Number 3 & Number 4
Number 5 & Number 6
Number 7 & Number 8
Number 9 & Number 10
How do you use these printable worksheets?
You can print individual worksheets if you are learning about one or two numbers. You can also print all of the worksheets on this page to create a Dr Seuss math book or counting book. Dr Seuss math activities for preschoolers make learning enjoyable. Instead of learning the numbers from one to ten they can have fun counting the funny quirky characters.
These printables can be used anytime but are very appropriate when you have a Dr Seuss preschool classroom theme. They will make the lesson plans relevant and part of the theme. Even if you don't have an entire classroom theme you can add some printable decorations related to Dr Seuss to decorate the classroom and make it a fun place to be.
Dr Seuss Worksheets 3rd Grade
The following Dr. Seuss math worksheets are for third and fourth graders. I made them for my son and wanted to share!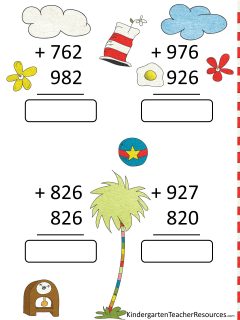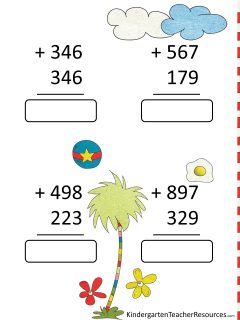 Additional Ideas for Dr Seuss Activities
Ask each student to bring her favorite Dr Seuss book and tell the class about it.
Have each child copy a character on a long piece of card stock to create a bookmark. They can write their name and decorate it with colorful pictures like those in the books that they are most probably familiar with.
Make a related craft that you can do together with the class and then put in the classroom all week to create a colorful atmosphere. The kids can take the crafts home at the end of the week.
Divide the class into groups of three or four and make colorful posters for the classroom. Help them find a quote from any book to inspire them. If they cannot write yet then help them write the quote on the poster. Ask them to decorate the poster together which will help them start getting used to working in a group.
For example, write on a blank poster "One fish two fish red fish blue fish" and ask the group to draw the fish and then decorate the poster.
Dr. Seuss Day
Dr. Seusss day falls each year on the 2nd March. On this day we celebrate the birthday of the famous author Dr. Seuss (pen name). His real name was Theodor Seuss Geisel. Dr. Seuss was born on the 2nd of March in 1904 in Massachusetts, USA. He wrote books such as The Cat in the Hat, Green Eggs and Ham, One Fish Two Fish Red Fish Blue Fish and If I Ran the Zoo.