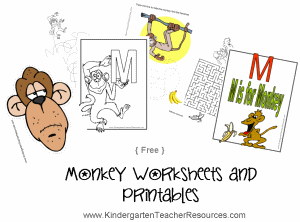 A selection of free printable worksheets, coloring pages, mazes and other printables with monkeys.
Alphabet Coloring Pages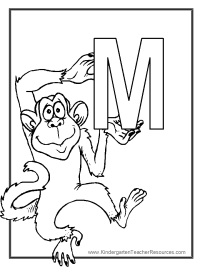 Letter M Coloring Page
The monkey is holding the letter M. Color the monkey and the letter M.
This will help kids learn to recognize the letter M and associate it with the word "monkey".
M is for Monkey. These coloring sheets will help preschoolers learn to read and write while having fun coloring.
Monkey Coloring Pages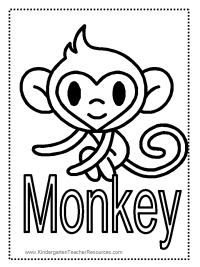 A selection of free printable monkey coloring pages. The word "monkey" can be colored too. This will help children learn to recognize the word.
Monkey Printables
Monkey bookmarks which can be colored. Once they are colored cut them out and punch a hole on the top. If you can laminate them then they will last for longer.
"Keep Out" sign for the door
Printable invitations which can be colored.
Printable Mazes
Level: Easy
Level: medium
Level: Advanced
Letter M Printables
Greeting Cards
Happy holidays coloring page
Printable Masks
Print these monkey masks.Cut out the mask.
Punch holes on either side.
Tie string or elastic between the holes.
These masks are made as described above but need to be colored before used.
Number Mazes
Follow the numbers from number one in the correct order in order to find the path from the monkey to the end of the maze.
This is an alphabet maze. Start at A and join the letters in the correct order of the alphabet to find the path from the monkey to the bananas.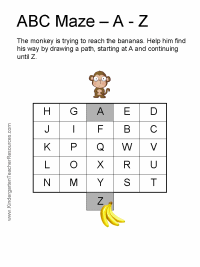 Monkey Worksheets
Trace the lines