Lego Storage Solutions
Do you have Lego all around your home or kindergarten? Lego is both fun and educational but it tends to get messy.  Here are 10 creative ways to store and play with Lego.
This is an Ikea hack (
from Ikea Hackers
) made with an Ikea Lack table.
Click on the photo for more details but basically you cut a hole into the table using a jigsaw. Make the hole big enough to fit a plastic box inside. Store Lego in this box and put the lid on.
You can get the box at Ikea too. Glue lego bases to the table. This table has space to both build and store lego.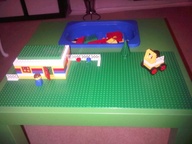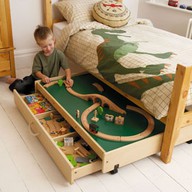 This is a perfect Lego table from 
Great Little Trading
 for people who have limited space (who doesn't?). There is a huge area to play and loads of storage. When not in use you just roll your Lego workstation under the bed. Amazing! If my son's drawer under his bed wasn't packed with toys I would totally have transformed it into a lego drawer! You can also use one section for lego, one for Playmobile and one for a train or cars.
This Lego building center was made by "our wee family".
They made it with two plastic drawer units on wheels and a table top with Lego bases attached. Click on the photo for more details. It is a good idea to create a table which can be used for nearly any purpose with loads of storage which is always handy. Add a stool and your Lego workstation is ready!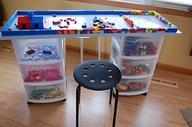 This is a great way to display lego. Adhere a lego board to a shelf and display your creations! This is a perfect solution for
those looking to display their creations but obviously has no room to work on or to store Lego pieces unless your Lego collection is relatively small.
Finley and Oliver found the perfect way to store Lego when travelling.
When I saw it I had one of those "why didn't I think of this?" moments.
It is such a simple yet functional and creative idea. You keep the Lego pieces in the box and take it with you wherever you go. My child loves to play with his Lego wherever he goes so I am definitely going to make him one of these.It is made using a wooden box with a sliding top (such as a cheese box or cigar box). I plan on using a tissue box which you can get at craft stores. Paint the box and then attach a small Lego building plate to the lid. Click on the photo for more details.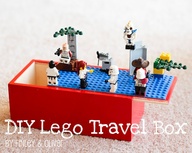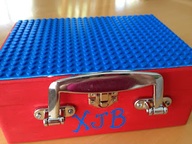 After reading the tutorial above Alicia made this version by attaching the Lego building plate to a suitcase. This is so simple to make yet so functional!
I love this idea and I think that this would be amazing to make the only problem is that it would be very expensive. These Lego boards are quite pricey and you would need so many to cover a wall.
Besides the issue of the cost I think that this would be a super creative, functional, colorful and unique way to both store and play with Lego.
If I wasn't on a budget I would love to make a similar wall!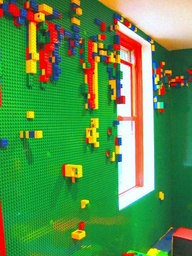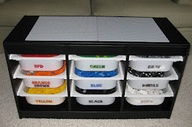 OK, I am impressed! The table from scrapbooks of sorts is great. It has plenty of storage and a place to play on top on the Lego plates attached. In fact, it also has a fabric cover to hide the Lego table when not in use. When closed it looks totally grown up and smart (click on the photo for more details and instructions). That is impressive but still not the thing that impresses me the most. What blows me away is that this mom color codes her Lego and gets her kids to put away Lego according to color! I can't even get my kids to put their Lego away and these kids put each piece in the correct tub. I'm impressed!
This is a one serious Lego creation table from "
All for the boys
"! It is too large for most homes but perfect for a kindergarten or playschool. Join four sets of drawers from Ikea and add a piece of wood to create a table top. Plenty of room to store Lego or anything else and lots of room to create! If you have the space this is a great way to store your kids' toys and keep them busy too!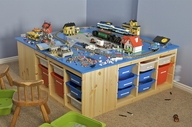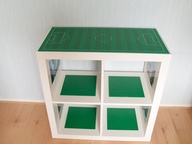 This Ikea Hack (from Ikea Hackers) is made from an Expidit (2 by 2) unit and some lego plates. Click on the image for more details.  The best part is that each child can get a designated area to play. No more fighting! OK, lets be realistic. No more fighting about this particular issue but many more issues left to argue about! You could put the boxes of Lego in the unit to store them when not in use.