Letter B
Learning the letter B? These free printable letter B worksheets, coloring pages and activities will actually make learning fun!
Letter B Worksheets
Letter B Handwriting Worksheet
B is for banana
Spongebob Letter B Worksheet
This SpongeBob letter B worksheet will teach kids to recognize, read and write the letter B (lowercase "b") and learn the beginning sound for the letter "b".
How do you use this worksheet?
Say, this is the letter "b" and point to the letter "b".
Say, "beach begins with the letter b. Listen for the sound that "b" makes at the beginning of the word "bbbbbb-each".
Ask the child to say "bbbbbb-each."
Show the child how to trace the hollow b with a finger and then ask him/her to color the hollow "b".
Have the child trace the grey letter b at the bottom of the page with his/her finger and then with a pencil.
Have the child write the letter b on the line and continue until the end of the line.
Ask the child to color the picture of Mr Krab at the beach.
Lowercase b
Uppercase and Lowercase B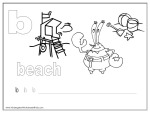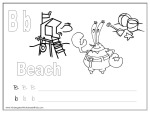 Letter B Coloring Pages
How to use this alphabet coloring coloring sheet?

Color the sentence "B is for Bananas"
Trace the capital letter B three times then write the capital letter B until you reach the end of the line.
Trace the lowercase letter b three times then write the capital letter b until you reach the end of the line.
Color the picture of the letter B with the monkey eating bananas.
 Letter B Coloring Page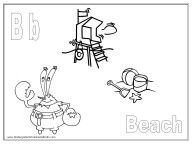 Letter B Activities
Balloon craft
B is for balloon
Print the facial features and cut out one of each for each balloon. Choose the nose, eyes, lips and ears that you want to use. Blow up a balloon and stick the facial features that you have chosen and cut out on the balloon. If you are doing this activity in kindergarten then you will need a few copies of the facial features so that each child can choose the features that he/she likes. Every balloon will be different. When you stick on the ears only stick part of the ear on so that it stands out.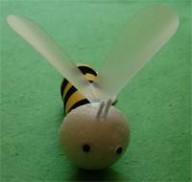 B is for Bee
This is a toilet paper craft. Wrap a toilet paper roll with yellow paper and stick on black stripes (or vise versa). You can also paint it instead of using paper to wrap it. Attach a polystyrene ball for the face and stick movable eyes on it. Stick a small pipe cleaner on the top of the head (we used white but you can use black too). Cut out wings using construction paper or any other suitable material and stick them on.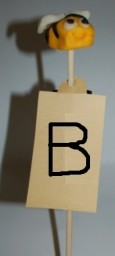 B on a stick
If you want to make bees with a kindergarten class then get some fondant, marzipan or playdough in yellow, black and white. If you are making a bee at home with one child then you will obviously need a smaller quantity. I made this using fondant which I made myself (store bought fondant is much more expensive than home made fondant).
Make a bee and stick a stick in before it dries. Attach a note to it on which each child writes the letter "B" or "B is for Bee". If the bee was made with fondant or marzipan then they can actually eat it!
B Jar
If you do the previous activity then keep one bee aside to make a "B jar" or "bee jar". If you don't have the patience to make one you can just stick a plastic bee on a jar. Every kid draws a picture of something that starts with the letter B and puts it in the jar. You can keep doing this until the jar is full. Encourage each child to draw as many pictures as possible. Make a list of words that start with b before you start so that you can help give students ideas when they get stuck. If you are homeschooling then your child can draw as many different pictures as she can think of. Keep giving her ideas when she runs out of her own.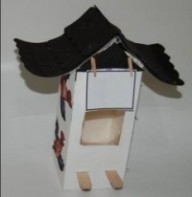 B is for Birdhouse
I made this birdhouse using a milk carton. You can either make one for the whole class or each child can make his/her own birdhouse. I attached ice cream sticks for the birds to stand on while eating and filled the carton with seeds. I stuck pictures of birds on the side (B is for birds). The roof is made with black construction paper although you can use something water proof if you are putting it outside the kindergarten in the winter.
B is for Butterfly
These are four different butterfly crafts that can be done with kids learning the letter B (or learning about butterflies).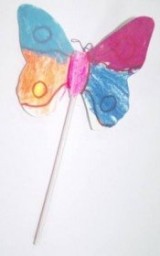 This is a paper butterfly that a student drew and colored. I attached it to a stick and attached a small piece of wire to the top.
This butterfly is made with a wooden stick, four polystyrene balls and moveable eyes two small pieces of pipe cleaner. You can either cut out the wings yourself with construction paper or use precut butterflies. Have the children decorate the butterfly's wings.
To make this butterfly, take a piece of paper and paint half of it with a lot of different colors. Fold the piece of paper in half while the paint is still wet and then open and allow to dry. When it is dry fold it in half again and cut out half a butterfly (which will then open to a whole butterfly).
If there are anymore letter B worksheets, coloring pages or activities/crafts that you would like to see here then please feel free to comment below.
Do you have any additional ideas? Please share below (using the comment form).